Why buy a Real Christmas Tree?
Many consumers will be asking themselves that question this holiday season.
In this age of environmental awareness it's appropriate to know a favorite family holiday tradition of choosing a real Christmas tree over an artificial tree is still the environmentally sound choice.
What could be simpler or more natural? Buying a real Christmas tree is definitely an environmentally sound choice.
Consumers are showing their preference for real, natural products that are socially conscious. Many young families are attracted to the tradition of celebrating Christmas with a real tree in their home.
Christmas tree farms stabilize soil, protect water supplies and provide refuge for wildlife while creating scenic green belts. Often, Christmas trees are grown on soils that could not support other crops.
A benefit to the atmosphere, real Christmas trees absorb carbon dioxide and other gases, emitting fresh oxygen. This helps prevent the earth-warming "greenhouse effect". For every real Christmas tree harvested, two to three seedlings are planted.
Real Christmas trees are an all-American, recyclable resource. Artificial trees, most of which are manufactured in Korea, Taiwan or Hong Kong, consist of plastics and metals that aren't biodegradable. When disposed of, the artificial trees will never deteriorate. Their effects on our environment are evident and will remain for countless generations.
Give a gift back to the environment!
Real Christmas trees are an all-American product, grown in all 50 states, including Alaska and Hawaii. Most artificial trees are manufactured in Korea, Taiwan, or Hong Kong.
Real trees are a renewable, recyclable resource. Artificial trees contain non-biodegradable plastics and metals.
For every real Christmas tree harvested, 2 to 3 seedlings are planted to continue the cycle of growth.
There are about 1 million acres in production for growing Christmas trees.
There are about 15,000 Christmas tree growers in the U.S., and over 100,000 people employed full or part time in the industry.
There are approximately 5,000 choose and cut farms in the U.S.
It can take as many as 15 years to grow a tree of average retail sale height (6 feet), but the average growing time is 7 years.
The top selling Christmas trees are: Balsam Fir, Douglas Fir, Fraser Fir, Noble Fir, Scotch Pine, Virginia Pine and White Pine.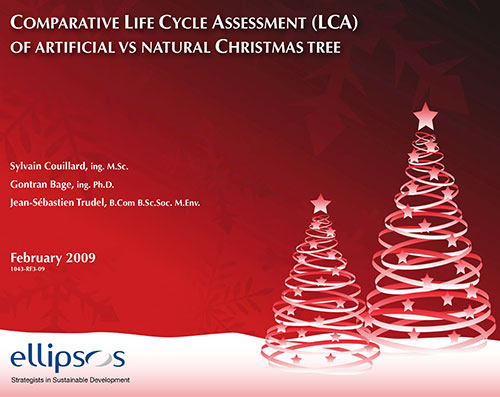 A Life Cycle Assessment was performed to guide the environmentally conscious consumers on their choice of Christmas tree. The natural tree is a better option than the artificial tree, in particular with respect to impacts on climate change and resource depletion. This research concludes that the real tree is better for the environment. To view PDF click the graphic above
It's Environmentally wrong to buy and use plastic trees!
Consider these important facts...
Fake trees and wreaths are made from nonrenewable petroleum.
REAL Christmas trees and wreaths do not harm our environment and our resources... the trees are an agricultural crop. Wreaths are made with branches off the tree; many of these branches would be discarded/recycled in the field if they weren't used for wreaths. Each year Christmas tree growers replace cut trees with a new crop of seedlings.
When a fake tree catches fire, it puts dangerous toxic fumes into the air.
A properly cared-for REAL Christmas tree will not catch fire easily. If and when it does, its fumes will certainly not be as toxic. In addition, one acre of REAL Christmas trees remove carbon dioxide from the atmosphere and produces enough oxygen for 18 people.
Fake trees cannot be recycled. When they are disposed of in a sanitary landfill, they will not disintegrate, but will remain there forever, taking up increasingly scarce landfill space.
Our cities today are faced with a critical shortage of sanitary land fill space. Many of them, and states as well, have passed laws prohibiting disposal of REAL Christmas trees in a landfill. REAL trees are thus being used in various helpful ways when disposed of...such as ground-up mulch to replenish the soil, fish habitat and other useful methods.
But, what about disposal of fake Christmas trees? No legislation has yet been passed to prohibit their disposal in a landfill. A fake Christmas tree has no use whatsoever when disposed of, except to continue taking up space in critically-needed landfill space.
Fake trees are manufactured mainly outside of the United States.
We hear much today about our economy being faced with a loss of jobs. Why do we continue to promote loss of jobs in the Christmas tree industry by buying and using fake Christmas trees and wreaths when very few fake trees and wreaths are made in the United States by American Labor.
Thousands of jobs have already been lost in the Christmas tree industry because continued sale and use of fake trees and wreaths continues to be encouraged.
Over the years, the Christmas tree has come to symbolize the faith and hope of harmony among all mankind. This spirit is REAL and a REAL Christmas tree, when brought inside our homes, projects this feeling through its pleasant scent and natural warm beauty.